Istanbul Passage is moody, psychological espionage tale
By David Madden
Special to Magazine (The Advocate)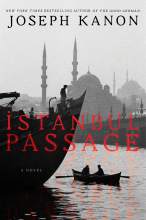 November 19, 2012
ISTANBUL PASSAGE
By Joseph Kanon
Atria Books, $26; 401 pp.
Obviously, Joseph Kanon so loves Istanbul that he could not resist moving his protagonist back and forth all over the city. Everyone who goes there loves that city. For anyone who has not yet gone there, Kanon's love will set you down walking on Galata Bridge, breathing the air sweeping over the Golden Horn from the Bosphorus strait. Inside, front and back, a very effective two-page map shows where we are. Never mind that the time frame is wartime early 1940s.
But Istanbul Passage is less a travel narrative or a love story than it is a moody psychological espionage tale. Leon Bauer is an expatriate American businessman who allows himself to get caught up in the Allied war effort doing odd jobs and courier runs for a business associate who is involved in delivering a war criminal to either the Russians or the Americans. Leon himself ends up with the task of trying to save the life of that loathsome creature.
Leon visits his psychotic wife who languishes in a clinic, simultaneously falling in love with the estranged wife of a businessman who is mysteriously murdered. The body count is rather low, but the tension is consistently very high, as Leon moves the war criminal from place to place, dealing with a vicious Russian official and an official of the Turkish police.
Kanon has forged a somewhat unique style. More effectively than John Le Carre, Graham Greene, or even Georges Simenon, Kanon simulates murky perception and thought processes. The reader's experience is one of prolonged immersion in the sustained point of view of Leon whose dangerous predicaments render him acutely aware. "Had they heard about the shooting yet? Pages being made up, lines of type. Murder in Bebek. Mysterious shooting on the Bosphorus. No witnesses. Never suspecting the witness was outside their windows right now. Not just a witness, the killer. The sound of the shot was still in his head, an echo. Life gone in a minute, that easy."
Author of five previous novels, including The Good German, Kanon is also a master of fast paced dialogue. Few visitors to Istanbul see as much as Kanon shows by a fitful light.
David Madden's 13th work of fiction is London Bridge in Plague and Fire, just out.