LONDON BRIDGE IN PLAGUE AND FIRE by David Madden
For over two thousand years, London Bridge evolved through many fragile wooden forms until it became the first bridge built of stone since the leaving of the Roman invaders. In David Madden's tenth novel, London Bridge is as much a living, breathing character as its architect Father Peter de Colechurch, who began work on it in 1176, partly to honor Archbishop Thomas a Becket, murdered in Canterbury Cathedral. Twenty-five years in the making, that version was a wonder of the world until it was dismantled in 1832.
In the year of the Great Plague of London, 1665, few Londoners, including the 135 merchants who have shops and houses on the bridge itself, remembered Peter de Colechurch. Daryl Braintree, a young poet living on the sixth floor of Nonesuch House on the bridge, began resurrecting Peter, recreating the building and the history of the bridge in his own imagination. As he also writes poems about the bridge, he mourns the disappearance of his father, the Old Chronicler of the Bridge, and reads his writing to his witty mistress, Mistretta, who would rather keep on making love. Throughout the Great Plague and the Great Fire the following year, the Poet remains immersed in factual research and flights of the imagination.
David Madden's imagination reaches beyond the Poet and Peter de Colechurch, whose best friend was a famous courtesan, to embrace a gallery of equally important characters.
As a young boy, Lucien Redd, sexually and physically abused by both Puritans and Cavaliers during the English Civil War, was kidnapped off London Bridge onto a merchant ship. He aspires to become Lucifer's most evil disciple.
Also as a young boy twenty years later, Morgan Wood is forced to serve on a merchant ship to pay off his father's debt to goldsmith Clinkinbeard, a major merchant on the bridge. Compelled by a profound nostalgia for life on the bridge, Morgan keeps a journal. Coming onto the ship, Lucien befriends Morgan only to set him up for motiveless destruction.
Surviving plague and fire, but fearing that God's wrath will turn upon the bridge, the bridge merchants, led by goldsmith Clinkinbeard, ultimately revert to an ancient pagan ritual by choosing one of their thirteen-year-old daughters to be buried alive in a pier at the South end. Having chosen Blythe, ignorant of the fact that she is no virgin, they hire Lucien, who has come to the bridge to burn it, to kidnap and place her in the pier. Blythe urges Lucien to take her innocent playmate Gilda.
Morgan, who has eluded Lucien, appears as the inhabitants of the shops and houses on the bridge are searching for Blythe.
Like his creation the Poet, Madden employs several innovative ways of telling this often shocking but also lyrical and complex story. His well-known mastery of imagery is at its most impressive.
~~~~~~~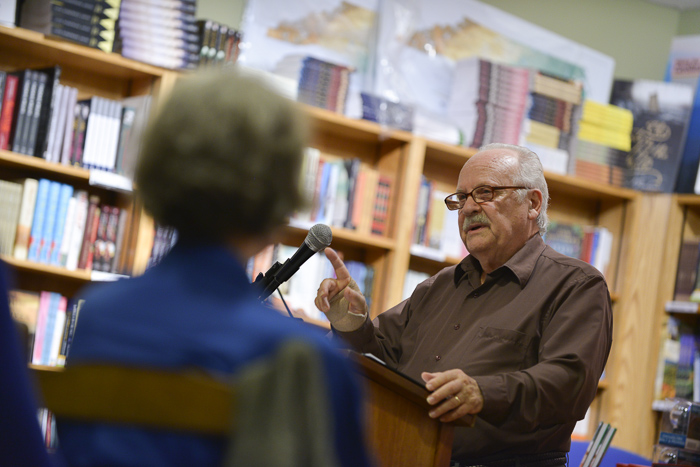 Listen to a recent live dramatic performance by David Madden reading from
London Bridge in Plague and Fire
at Malaprop's Bookstore in Asheville, NC.
Audio clip: Adobe Flash Player (version 9 or above) is required to play this audio clip. Download the latest version here. You also need to have JavaScript enabled in your browser.
Read THOMAS BECKET'S BONES ARE MISSING, A short story adapted from the novel [published in Sewanee Review].
For more on the history of Ancient London Bridge and a virtual museum, go to The London Bridge Museum & Educational Trust.